FAQ's
The work
My work is surprisingly manual and low tech. All my carvings are performed freehanded, by hand and eye, with a high speed router. My work is incredibly accurate and far superior in detail, as compared to automated processes. Router bits smaller than 1/16th" reveal the finest detail of each map. I build all my own panels from rough lumber, one at a time. The carved areas of the plaque are stained dark, while the plaque itself is finished in its natural color with a satin polyurethane finish. Your map is ready to be wall hung and is equipped with 1 or more 3/8" hang slots routed into the back.
Sizing
Typical starting size is about 1 sq. ft. for smaller lakes, and 2 ft or more for larger more complex lakes. Proportion is variable and is determined by the shape of the lake. I research map and aerial photo data and provide a broad range of sizes and prices, or I can size to fit a budget or dimensional requirement. I can include adjoining lakes or rivers on the same plaque and in some cases, I can do just a portion of a lake. All my work is made to order, so customization is not a problem.
Pricing

Carvings are priced primarily upon size of plaque in square feet. I can size to fit a price point, or dimensional requirement.

The following list provides a standard starting point for most projects. Highly complex lake basins and/or wood and edging upgrades can add additional cost. Actual dimensions are variable and determined by the shape of the lake.

Dimension area price $/ft²

12" x 12" 1.0 ft² $195

$195/ft

15" x 15"

1.5 ft² $265

$175/ft

17" x 17"

2.0 ft² $325

$162/ft

19" x 19" 2.5 ft² $395

$158/ft

21" x 21" 3.0 ft² $465

$155/ft

24" x 24" 4.0 ft² $595

$150/ft

27" x 27" 5.0 ft² $725

$145/ft

33" x 33" 7.5 ft² $1050

$140/ft

38" x 38" 10.0 ft² $1400

$140/ft
Edging
My plaques feature several distinctive edging options, round-over, routed, molded, molded+ and full-frame. Rustic plaques feature bark edges.
The Deal
I typically require a deposit minimum $100, check, PayPal or credit card. High end or highly customized pieces may require more. Lead time can be 8-12 weeks depending on current backlog. Upon completion, I email photo and request balance due, then ship upon final payment.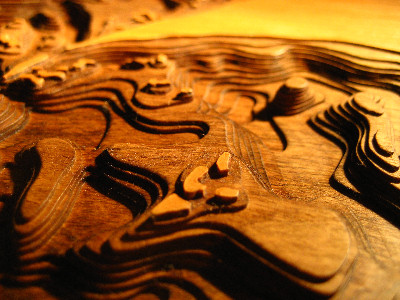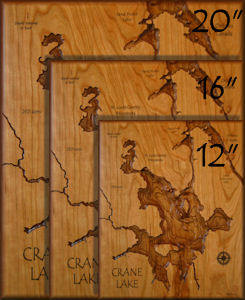 Personalization

Any plaque or table can be personalized. Most commonly, a cabin or lake home location is labeled on the shoreline discreetly with a small star or cabin symbol, and accompanying line of text, like a last name or cottage name. Other notable locations can be noted too, though I prefer to not "clutter up" a carving with too much lettering.